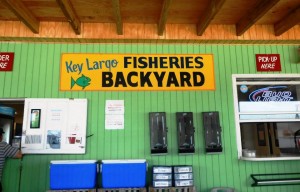 Key Largo Fisheries Backyard Cafe
1313 Ocean Bay Drive
Key Largo, Florida 33037
(305)-451-3784
Key Largo Fisheries is located in the middle of Key Largo, surrounded by the emerald green waters of the Florida Keys. The fisheries sits on five acres of land and water forming a marina, retail store and seafood processing facility.
Key Largo Fisheries is well-known and respected for the fresh and frozen seafood and bait products that are packaged and shipped nationally and internationally. Proud to sponsor "fresh from the Florida Keys," KLF offers a wide variety of products, and ships business and/or personal orders worldwide.
The Backyard Cafe features fresh from the Florida Keys seafood. We also have a variety of Beers and Wines to choose from.