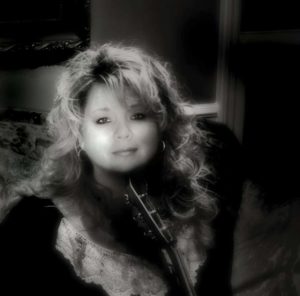 Leslie Satcher is a fifth generation Texan. The daughter of a strong hearted single mother and grand daughter of cotton sharecroppers and pioneers, she is no stranger to hard work and perseverance. Born in 1962 where the Chisolm Trail and the Red River cross, Leslie grew up singing in the churches and schools of Paris, Texas along side her baby sister Jeannie Winn.
In 1989, during a short trip to Nashville, a friend prompted Leslie to record her voice over the tracks of country standards at The Barbara Mandrell Museum. That was all it took! Just four weeks later she was crossing her beloved Red River in a $1,000 Chevrolet dragging a U-Haul trailer with an ironing board strapped to the back. If her story sounds like the beginning of a country song, it was. After several "day jobs" in "Music City", Leslie's talent as a songwriter was recognized by a friend from church, Guy Penrod of the Gaither Vocal Band, who encouraged her to show her work to friends Larry Strickland and Naomi Judd. It was Naomi who helped her hone her skills into a more commercial form and then introduced her to guitarist Don Potter who was starting a new publishing company. The company never came about, but the prospect of writing for a living blossomed for Leslie. After a Sunday night show at the world famous Bluebird Café, Leslie teamed with accomplished father and son songwriters Max D. and Max T. Barnes. A writing contract with the then new publishing company Island Bound Music ensued.
Seven years of cuts by artists such as Joe Diffie, Sara Evans, Lee Ann Womack, Wade Hayes, Reba McEntire, Vince Gill, Pam Tillis, and Willie Nelson helped Leslie take the next step in her career. Jim Ed Norman of Warner Brothers Records Nashville saw something in the talent from Texas and gave her the chance to record her first project "Love Letters". Leslie and her dear friend, producer Luke Wooten, turned in a critically acclaimed album that established her as one of the leading singer/songwriters in the country music industry today. Currently, Leslie is focusing on her second album as well as continuing to pen songs for other artists as a staff writer for Sony Tree ATV.