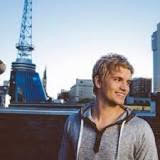 Levi Hummon made his imprint on the Nashville community before he realized the extent of his craft. Born and raised in Music City, Levi was surrounded by music greats; however, it was his keen eye for visual arts that the budding entertainer decided to pursue. While studying painting in college, he was drawn to his dormant musical talents – singing and songwriting. At the close of a significant relationship, Levi began to explore songwriting as a way to navigate his life and relationships. Soon after, Levi realized his need to return home in order to turn this newfound hobby into a reality.
Once back in Nashville, Levi continued to develop his personal sound, often with the help of his father, Grammy-Award winning songwriter Marcus Hummon. Levi loved relating to a listener through the stories he could craft and soon developed a regular rotation of co-writers to help him deliver. He found himself working with notable songwriters such as Jimmy Robbins, Shane MacAnally, Andrew Dorff, Josh Osborne, Jonathan Singleton, Nathan Barlowe Brandy Clark and Trevor Rosen, among others. Levi also wrote with legendary entertainer Steven Tyler on his current single "Red, White and You."
Signed to The Valory Music Co., Levi joined a roster chalked full of diverse talent. The LEVI HUMMON EP is a glimpse into the songwriter's zest for live, thirst for adventure and homage to his upbringing. Levi co-wrote four of the five tracks on the EP making a personal mark on his debut project.