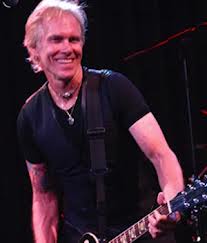 Memorable pop-rock tunes, soulful vocals, wailing slide guitar and riveting live performances are Billy Livesay's signature. A respected member of the music community, Billy toured as guitarist and lead vocalist for E Streeter Clarence Clemons' band Temple of Soul, releasing 2 CD's titled, "Live In Asbury Park, Volume 1″ and "Live in Asbury Park, Volume 2″ which features Bruce Springsteen.
Billy has performed with Mickey Thomas (Jefferson Starship), Gerry Beckley (America), Jimi Jamison (Survivor), Steve Augeri (Journey), Mike Reno (Loverboy), Wally Palmer, Coz Canler & David Petratos (The Romantics), David Jenkins (Pablo Cruise), Brian Howe (Bad Company), Johnny Depp, Alto Reed (Bob Seger), and more.
Billy has forged a national career which includes the licensing of 21 of his songs to an MTV series and a publishing deal with Transition Music and Kid Gloves Music.
Billy's original songs have appeared in film on on television…
Major Motion Pictures:
Promised Land (with Matt Damon & Frances McDormand)
Wrestle Maniac
Movies Made for Television:
HBO movie – Back To Even
NBC movies of the week – Matthew Sheppard Story
Death of A Cheerleader
Beauty's Revenge
Television Series:
MTV
Samanta Who?
Saving Grace
My Name is Earl
One Tree Hill
King of the Hill
Robin's Hoods
Doogie Howser, M.D.