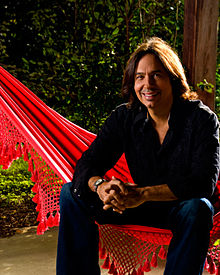 James Slater is a Grammy-nominated, piano-playing, bilingual singer-songwriter of Bolivian American descent.  Born in Durham, North Carolina to a mandolin loving psychiatrist and a Spanish speaking mother, he was raised in the tropics of the Panama Canal Zone in Central America.
After high school James returned to the USA and graduated from Florida's distinguished University of Miami School of Music.  After a brief move to Los Angeles he found himself living in Zurich, Switzerland for six years where he enjoyed touring, recording, and writing.  He wrote "Don't Break My Heart," for Belgian super group Vaya Con Dios, and then signed a solo contract with BMG, Switzerland, and penned the hit "Poco a Poco." He has traveled the world from Panama to Dublin, from Spain to Havana.
James and his grand piano now live in Nashville, Tennessee.  When he came to Nashville, he signed with Byron Gallimore's Song Garden/State One publishing company.  He has recently made the move to EMI Music Publishing.  Since being in Nashville, his songs have been recorded by country superstars like Tim McGraw, Kenny Chesney, Martina McBride, Rodney Atkins, John Michael Montgomery, Lorrie Morgan, Jessica Andrews, and Mark Wills, among others.  Martina's recording of "In My Daughter's Eyes" has become a modern day standard garnering James a BMI country award as well as a BMI pop award in 2006 in Los Angeles.  The song was nominated for a Grammy for best vocal performance.
James was nominated for the country song of the year Grammy for Jamey Johnson's "The High Cost of Living". He has penned Rascal Flatt's hot single, "Unstoppable" which was used as a theme for the winter Olympics in Vancouver and has also written American Idol Kellie Pickler's single, "Falling In Love Again".
James' song "Maggie Creek Road" is featured on Reba McEntire's 2009 album Keep On Loving You which debuted at number 1 on the pop and country charts.  James was featured in CMT's Season 1"Gone Country" where he co-wrote the winning song "The Way That I Want You", sung by Julio Iglesias Jr..  He also co-wrote "Glorious Train" with Sheila E on Season 3. Chris Brown included James' song "I Should Have Kissed You" on his F.A.M.E album, and he has the current single for Gloriana titled " I Can't Shake You".
James's latest solo CD release "Key West Address" is a love letter to the island that reminds him so much of his tropical upbringing – so much so that the mayor of Key West has awarded James the "keys to the city" and proclaimed the song "Key West Address" the island's official theme.
On the Web