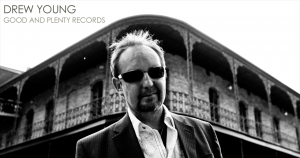 Singer/Songwriter Drew Young has been involved in music since he received his first acoustic guitar at the age of 9. After learning the complete Eagles songbook, Drew graduated to writing his own music. In college at The University of Georgia, Drew formed an all-original band, "Ruben Kincaid." The band became a staple of the college music circuit and logged tens of thousands of miles over the next 10 years as well as 4 full length CDs, produced by John Keane (who also produced REM, Widepread Panic, and the Drive By Truckers), to great fanfare and critical acclaim.Drew quit the road to take to take a position as A&R assistant at London Records in London, England, working with the legendary Pete Tong.
Later returning to the States, Drew enrolled at the Recording Workshop and studied Audio Engineering which eventually led to a job in New Orleans as the assistant music supervisor for the TV show "The Big Easy." It was in New Orleans that Drew began to write and record again, producing the first of many solo CD's. After the demise of the TV show Drew relocated to New York City were he worked as the General Manager of Clinton Recording Studios. Clinton was the home for countless legendary musicians, including Bob Dylan, Sheryl Crow, The Dixie Chicks, Steely Dan, Billy Joel and numerous film scores and composers, including John Barry and Howard Shore.After Clinton closed its doors Drew was offered a job as the Director of Product Development/American A&R at Putumayo World Music, where he remains as a product development/A&R consultant.
Drew also books a 1,000-seat outdoor concert series in Covington, LA, consults with Threadhead Records and produces artists. Drew recently finished a full length CD of all original songs with appearances from New Orleans legendary artists Dr. John, Anders Osborne, Jon Cleary, Marc Broussard and Brady Blade of Dave Matthews/Emmy Lou Harris fame all the while staying closely involved in the local and international music community.
On the Web
Listen
Spotify
YouTube
Playlist: The Porch Sessions Women of New Orleans